Only the Best Ingredients
It really is plate-

lickin

' good
This elixir is a dressing, marinade and is suspected to contain unicorn tears and rainbow dust. You'll lick your plate It's THAT good!
Mama Hogg's Grilled Caesar Salad
This is the dish that started it all… Mama Hogg's signature dish will dazzle and delight your dinner guests like very few dishes ever will.
Kathy's Panko Breaded Chops
A little bit of extra lovin' to your chops – Mama Hogg's style – will delight your taste buds, making an every-day dish into your "company's coming" favourite.
Garlic sautéed Mmmm-mushrooms
Toss sliced mushrooms in 1Table spoon per handful of sliced mushrooms in a towel. Sauté in a medium heated pan, stirring often, taste and add more Mama Hogg's if needed in the pan if needed. Add black pepper to taste if desired. Side dish or burger/steak topping.
Trim the asparagus and place in a large bowl and toss with enough Mama Hogg's to coat evenly well. Place them on the grill of a barbecue or under the broiler in your oven and cook on medium/high heat for a couple of minutes until lightly charred but still firm. For even more flavor, drizzle some Mama Hogg's on top at service. It's beautiful and tasty way to spice up your asparagus.
Spending the last 20 years of my career as a financial planner and private wealth advisor, I used cooking as a stress management tool. I've developed hundreds of recipes over the years and I was happy to share all of them except two: saying "one day, when I retire, I'm going to bottle this."
Two years into retirement one of my best friends held my feet to the fire and reminded me, "you said… "
And, so after bottling a couple of small batches for family and friends I was convinced by a local store owner that Mama Hoggs needed to be on the shelf, and the process began. And now, Mama Hogg's is on the shelf throughout the Okanagan Valley and the West Kootenay's…. I need to say now…. I'm no longer retired. But I'm having a blast.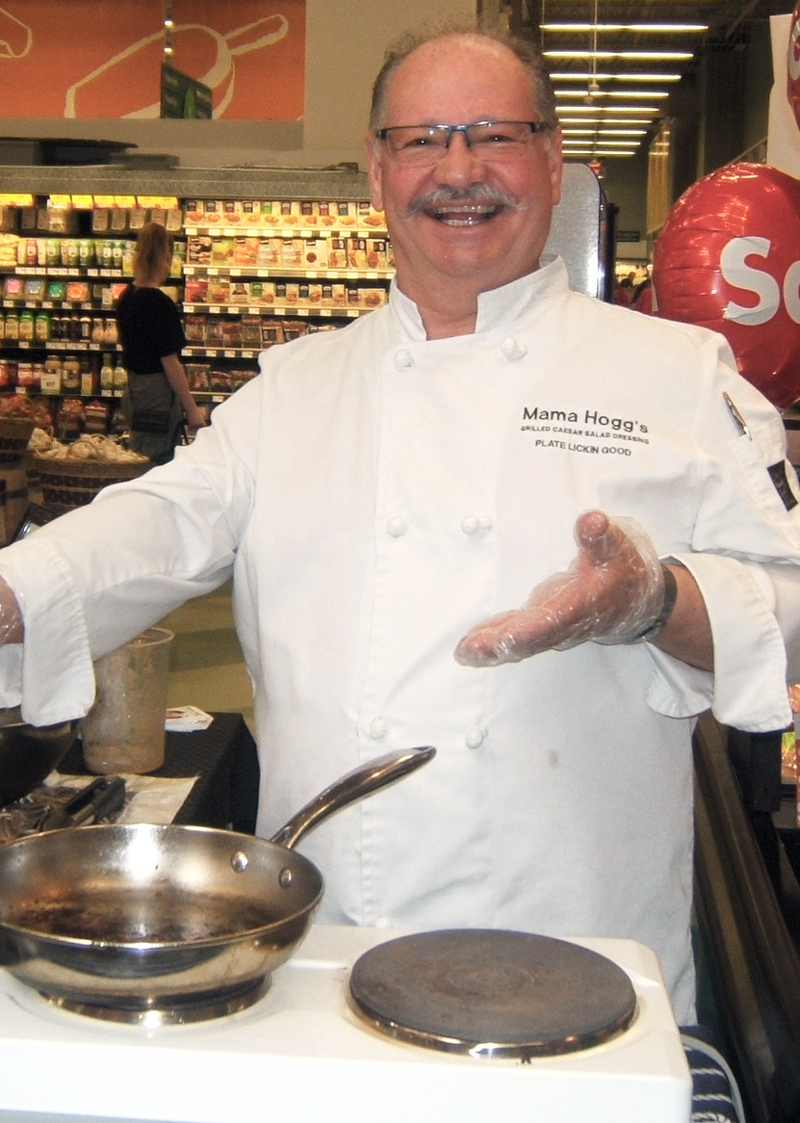 People are talking about Mama Hogg's
Listen to these plate lickers!
"Its amazing on everything ! Makes meal prepping easy"
Daniela L.
"OK Straight up – last night at 3 in the morning I literally went to the pantry and drank your dressing straight from the bottle. Not an embarrassing amount or anything, just enough to remind me of its savory deliciousness, although I think I may have a problem! Thanks for making and sharing with the world such an outstanding product! "  Chris L.
"Every time I go to Kelowna area, I pick up this amazing dressing. "
Kimberly P
.
"Love this stuff! As a salad dressing or a marinade, it tastes incredible! Can't wait for it to be available on the Coast! "
Mike S
.
"Absolutely the best dressing ever! I live in Alberta now and make sure I stock up when I visit home… Or make my mom bring it when she visits. "
Britt R
.
"I'm that person that seldom buys bottled dressing because I can make a very good one. After trying Mama Hogg's at the Penticton farmers' market, I bought 1 bottle. Boy do I regret that…..I
 should h
ave bought him out. It is BAR NONE the best bottled dressing I have ever had. We have only a couple of tablespoons left – now I have to find out where to get it from where I live. I cannot eat any other dressing now – Mama Hogg's has ruined it for me! Help!
."
Lillian G.
"All the way from Calgary and found this at the farmers market in Kelowna. Sadly I ran out not even after a week of being home and will need to order some more."
Shawn K.
"Amazing!!! We love this on everything. He is awesome to talk to and he gives us ideas for dinner. Thank you Calvin!!! "
Thea N.
Trying to find Mama Hogg's?
Find us at these locations
Armstrong/Salmon Arm, BC
Askews downtown
Save On Foods
Kelowna, BC
Urban Fare

Lakeview Market

Choices Market
Nature's Fare
Don-O-Ray Market
all Save On Foods stores
Lake Country, BC
Penticton, BC
Vernon, BC
Butcher Boys
Buy Low foods
All Save On Foods stores
Nature's Fare
West Kelowna, BC
Save On Foods
The Fork
Paynters Fruit Stand
Nature's Fare
West Kootenay
Liberty Foods (Fruitvale)
Kootenay Market (Castlegar)
Save On Foods (Nelson)
Kootenay Co-op (Nelson)
Farraro's (Trail, Rossland)
You do have the opportunity to have Mama Hogg's in stores in your town/area outside the Okanagan. We offer Licence to Manufacture agreements that are available for most regions in Canada, the US, Australia and the UK. It's quite easy, we send you a pail of secret sauce. You add it to the recipe ingredients and bottle 288 bottles and supply your local grocery stores (already listed in all Save On Foods Stores in Canada) as well as local farmers markets if you choose. Yes, it's that easy!